Trend Alert: Camouflage Prints Are Making The Rounds For Men
In the words of a fictional character, 'Winter is coming.' It is preceded by fall feels and autumn vibes and makes for an exciting time, especially when you get to see what the upcoming season has in store for us. Women's layering options, footwear choices and colour palettes are usually the focus of trend reports for autumn and winter. While men don't often get their fair share of the style spotlight, we're about to change that. In the season to come, we've got our eyes peeled for what's hot, happening and definitely what you should be in.
One of those trends that our radar caught was that of camouflage prints. The rugged choice may have utilitarian function for coverage in the wild but we've got to admit, it makes a pretty cool fashion statement too. While the likes of Katrina Kaif and Yami Gautam have given it their chic spin, we're going back to its roots. Men, we hope you're taking notes because this season, camouflage is about to come out from undercover. It's a great choice for a relaxed occasion like a movie date or even a house party. So if you've got a lot of those planned, then you're in luck because camo prints will definitely feature on the dress code. Whether with a pair of cropped shorts, pullovers or t-shirts, it's the right time to bring out your wild side while blending in with camouflage. We've got exactly what you need to get started and make a printed impact this season.
(Also Read: Sonakshi Sinha Makes A Cool Case For Camouflage Pants)
10 Camouflage Printed Pieces For Men
This season, get your camo on with these printed pieces we've picked out men.
(Also Read: Like Katrina Kaif And Tamannaah Bhatia, Go Chic In Camo)
1. t-base Sweatshirt
The t-base Sweatshirt is a cotton and polyester blended sweatshirt with zip details.
2. United Colors Of Benetton
The United Colors Of Benetton Shorts are olive green and grey printed cotton shorts of knee-length.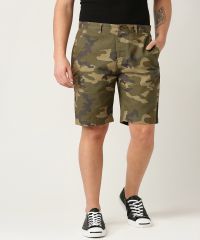 United Colors of Benetton Olive Green & Charcoal Grey Camouflage Print Regular Fit Shorts
3. H&M Shirt Jacket
The H&M Shirt Jacket has a grey hood and sleeves in sweatshirt fabric with a camo printed vest.